COLLECTION OF CERTIFICATES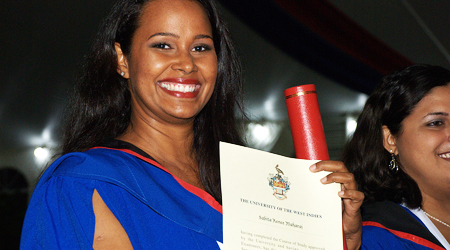 Effective this year, 2014, certificates will not be issued at the graduation ceremonies. Certificates are currently being issued at the Examinations Section for students who completed the requirements for the award of their degrees up to August 31, 2014. If your award date is September 1, 2014 you will be able to collect your certificate as of September 19. Certificates will also be issued at the One Stop Graduation Centre during the period of October 21 to October 29. Certificates uncollected after this period may be collected from the Examinations Section from Monday November 3, 2014.
It should be noted that due to late notification of awards, some certificates may not be available for distribution prior to the Graduation Ceremony.
If there is a Financial or Library hold on your record, the certificate will not be issued until the hold is cleared.
You are required to present a valid identification, that is, a Drivers License, Passport, National Identification or a UWI Staff ID (if applicable) in order to receive this Certificate.
If you are unable to collect your Certificate in person, it may be collected by someone on your behalf. However, you must provide a letter of authorization, a valid identification and the person collecting the Certificate must possess a valid identification as well.
If you are overseas you may provide a forwarding address to have your Certificate sent to you via courier. This service is at a charge of $US50 and may be requested at the Graduation Store.