Historic Site
The campus was chosen not just for its salubrious location, a plateau in the arms of the mountains on the outskirts of the city of Kingston, but also because it came with basic but usable accommodation built during World War II (1939 – 1945) when the site was a wartime camp. Gibraltar Camp as it was known, offered refuge to evacuees from the British island fortress of Gibraltar at the tip of Spain and, eventually, to Jewish refugees marooned in Spain and Portugal. There was even a civilian internment camp on the site in 1943.
The barracks style buildings constructed to house these long-stay visitors became the university's offices, lecture rooms, laboratories, halls of residence and recreational and other facilities, before the construction of new buildings started in the early 1950s.
UWI TODAY
---
Today, The UWI is the region's premier educational institution, with faculties offering a wide range of undergraduate, masters and doctoral programmes in Humanities and Education, Science and Technology, Science and Agriculture, Engineering, Law, Medical Sciences and Social Sciences. But amid the concerns of the present, the past remains visible across the Mona campus, where a number of heritage signs and monuments call attention to the material remnants of the site's varied history. These include cut stone Roman style aqueducts, an 18th century building re-purposed as a Chapel and much more.
HISTORICAL ARCHITECTURE
---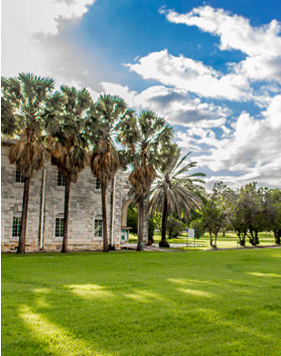 The University Chapel – which once served as an 18th century rum store was transported stone by stone to the Mona campus and repurposed as a chapel.
The Aqueduct that once carried water throughout the Mona estate in its days as a plantation.
Another section of the ruins of the Aqueduct runs near the Mona School of Business and Management.