A Past Steeped in Plantation History
The Mona site's history dates back even further. The site holds the ruins of the sugar works yards for two of St Andrew's sugar estates, Mona to the south and Papine to the north. The estates were divided by a small road called Shed Lane, small remnants of which remain; and linked by the cut-stone aqueduct that can still be seen across the campus. The aqueduct, dating from the mid-1700s, drew water from the Hope River and carried it to the sugar mills of the larger Hope Estate north of Papine, and to Papine and Mona.
By the end of the 19th century, Papine was owned by Mona's owner, who was consolidating land holdings in the area. These lands were purchased by the Kingston water authorities in the 1920s, for the water rights that they controlled. During this period, much of the land was leased to small farmers, many of them East Indians who raised dairy herds and also supplied Kingston with vegetables and pulses. The area was also known as offering pasturage for the city's livestock.
UWI TODAY
---
Today, The UWI is the region's premier educational institution, with faculties offering a wide range of undergraduate, masters and doctoral programmes in Humanities and Education, Science and Technology, Science and Agriculture, Engineering, Law, Medical Sciences and Social Sciences. But amid the concerns of the present, the past remains visible across the Mona campus, where a number of heritage signs and monuments call attention to the material remnants of the site's varied history. These include cut stone Roman style aqueducts, an 18th century building re-purposed as a Chapel and much more.
HISTORICAL ARCHITECTURE
---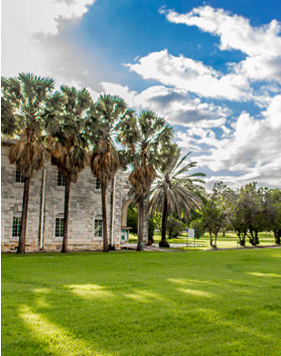 The University Chapel – which once served as an 18th century rum store was transported stone by stone to the Mona campus and repurposed as a chapel.
The Aqueduct that once carried water throughout the Mona estate in its days as a plantation.
Another section of the ruins of the Aqueduct runs near the Mona School of Business and Management.