A link to World War Two
It was the south-eastern part of this land, some 252 acres - that became the location for Gibraltar Camp.
In 1944, when the bulk of the evacuees were returned home to Gibraltar, and when many of the refugees had found onward locations, the camp was taken over by the military authorities. The Jamaica Batallion, the Home Guard, a Royal Air Force (RAF) Transit Camp and eventually an Ex-Servicemen's training facility were all located in the vicinity at various times during this period of 1944 – 1947.
The camp was handed from the military to the Public Works Department and then on to what was then known as the University College of the West Indies (UCWI) at the end of December 1947. And, after swift work to reconfigure the buildings to suit the needs of the nascent university, the UCWI welcomed its first students – 23 men and 10 women – in 1948.
UWI TODAY
---
Today, The UWI is the region's premier educational institution, with faculties offering a wide range of undergraduate, masters and doctoral programmes in Humanities and Education, Science and Technology, Science and Agriculture, Engineering, Law, Medical Sciences and Social Sciences. But amid the concerns of the present, the past remains visible across the Mona campus, where a number of heritage signs and monuments call attention to the material remnants of the site's varied history. These include cut stone Roman style aqueducts, an 18th century building re-purposed as a Chapel and much more.
HISTORICAL ARCHITECTURE
---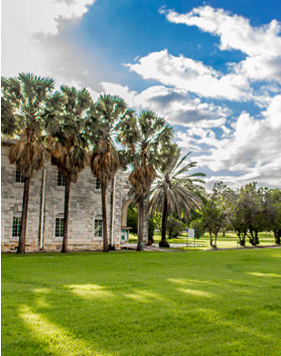 The University Chapel – which once served as an 18th century rum store was transported stone by stone to the Mona campus and repurposed as a chapel.
The Aqueduct that once carried water throughout the Mona estate in its days as a plantation.
Another section of the ruins of the Aqueduct runs near the Mona School of Business and Management.