The beginning of the Modern UWI
The University's establishment had been recommended in 1945 by the Irvine Committee, which spent three months touring the region and hearing from various interests in early to mid-1944. The Committee, chaired by Sir James Irvine of St Andrew's University in Scotland, was part of the wider Asquith Commission investigating calls for higher education in the British colonies, The Irvine Commission recommended a single regional university, with medicine as the first focus but a speedy broadening of the academic offering. The institution was to have a Royal Charter, and to be fully residential, the better to fulfil its role of developing a cadre of young West Indians. To build academic credibility, it was to be apprenticed for some time to a known institution that would grant external degrees – this was the origin of its early name the University College of the West Indies; the parent institution being the University of London.
After much deliberation and taking into account factors including population and facilities, the Commission recommended that the location be Jamaica.
The university achieved independent degree-granting status in 1962, as the University of the West Indies. By then, the university had acquired the Imperial College of Tropical Agriculture at St Augustine in Trinidad, which became its second campus. A College of Arts & Science established in Barbados in 1963 eventually crew into the third campus, Cave Hill. The Open Campus, formalised in 2008, drew on the pioneering experience of the Extra Mural Department which dated back to the university's founding, as well as distance teaching. The University Centres in non-campus countries fall under the Open Campus.
UWI TODAY
---
Today, The UWI is the region's premier educational institution, with faculties offering a wide range of undergraduate, masters and doctoral programmes in Humanities and Education, Science and Technology, Science and Agriculture, Engineering, Law, Medical Sciences and Social Sciences. But amid the concerns of the present, the past remains visible across the Mona campus, where a number of heritage signs and monuments call attention to the material remnants of the site's varied history. These include cut stone Roman style aqueducts, an 18th century building re-purposed as a Chapel and much more.
HISTORICAL ARCHITECTURE
---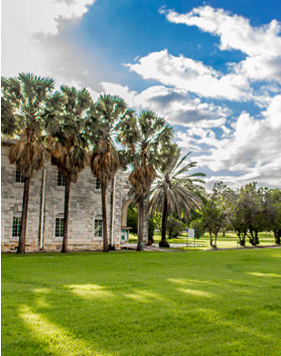 The University Chapel – which once served as an 18th century rum store was transported stone by stone to the Mona campus and repurposed as a chapel.
The Aqueduct that once carried water throughout the Mona estate in its days as a plantation.
Another section of the ruins of the Aqueduct runs near the Mona School of Business and Management.