Electrical Upgrades 2010-2011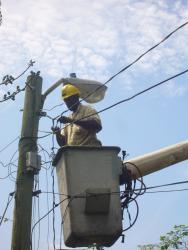 The members of the Electrical Section have undertaken several major projects, over the last eight months. These are in conjunction with external contractors and alongside routine maintenance. Presented below is a breakdown showing the degree of completion. They are as follows:
Project
Status
Medium voltage supply to New Vice-Chancellery Complex; completed
Taylor Hall transfer switch replacement; completed
Main Library transfer switch replacement; completed
Mona Chapel transfer switch replacement; 50%
Port Royal Marine Laboratory transfer switch replacement; completed
Registry generator upgrade; 80%
Medical Library electrical upgrade; 30%
Electrical supply – Usain Bolt's Stadium completed
Usain Bolt's Stadium –real-time communication system completed
Electrical overhaul to ten (10) Campus staff houses 80%
Faculty of Medicine – O & G and PGME- upgrading of system from 4kV to 24kV. 30%
Upgrading the electrical supply 24kV to our facilities on the UHWI compound will greatly improve the power quality and eliminate the low voltage, being experienced.
Significant improvement is on-going on UWI Mona campus 24kVsystem, alongside the maintenance programme. This system is being redesigned to enable sectional scheduled outages rather than the campus-wide that entails.
Our aim is to provide UWI – Mona with a system the meets 1st. world standards.