Tribute to the Life of Mrs. Vivette Hall-Foster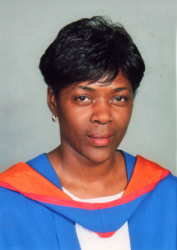 At approximately 4:15pm on Friday, May 29, 2015, the call came that we had lost a colleague. The receiver's first reaction was that this could not be true, no, this must be a prank and so while he was on the phone he began asking passers-by. Then he pulled himself together and quickly realized that this must have been true as the call came from a representative of the University's Marketing and Communications team. We then knew it was not a fluke as this office always checks before it reports. Up to this point in time, a cloud of sadness hovers over the Estate Management Department. The questions linger but then, "who knows… who knows…."
Fresh from High School, Vivette Hall joined the University of the West Indies in 1983. In August 1984 she was appointed Clerical Assistant in the then Maintenance Department. She displayed much promise in her youthful days, constantly taking on new challenges and in short order enjoyed promotions. Vivette moved through all the ranks available in the Clerical family and by 1998 had become the Administrative Assistant in the Office of the Estate Manager.
While working hard at the paid job, she was also working at extra-curricular activities. Shortly after becoming a member of staff in Maintenance Services, Vivette Hall became, Mrs. Vivette-Hall Foster. She married Donald Anthony Foster and remained in this union up to the time of her passing. Their union produced two beautiful children. Family life concretized a long held notion of Vivette, that she was a multi-tasker. While nurturing her family, and meeting her obligations at the Maintenance Services Department, she was also tuning in to her personal academic development. Not only did she preach that persons should do well in school, she consciously led from the front in this regard. In short order she acquired her BSc. in Management Studies and in 2010 her MSc in Human Resource Development.
Mrs. Foster was a true all-rounder. This was seen in how she organized the annual Christmas parties and also rallied the troops for cheerleading during inter-departmental competitions in the summer months. Needless to say, the ding dong battles between Maintenance and Bursary usually tipped towards Maintenance due to the encouragement from the sidelines with Vivette as chief Cheer leader, motivator and juice pourer.
She moved through every section of the department. Perhaps the only positions Mrs. Foster did not cover during her tenure in the department were the technical ones. Given her performance over time, had she done some technical training there was no telling what her next post would have been. Mrs. Foster saw to the smooth settling in of a few Estate Managers. Among them Waldemar Scott, Timothy Miller and Kathleen Sambo; a number of her work years were enjoyed by Mr. Clive Simpson (his reflection is enclosed).
In addition to being motivator, confidante, auntie, mummy and friend to many, Mrs. Foster was also an Emergency Medical Technician. In the middle of a meeting some time ago, one of the attendees, who was a diabetic, became non-responsive. Without any notice, she moved her car to the entrance of the Conference Room, got the person in it and at 'break neck' speed, she got the individual much needed medical attention.
Among her many accomplishments would have been the transformation of the Maintenance Services Department to the Estate Management Department. She sat on many committees and assisted in the transformation of many of its processes including the payroll. Mrs. Foster resigned from the University in 2012 and migrated to the United States of America.
As T. D. Jakes reminds us of the three types of 'friends', the confidant, comrade, and the constituents, she meant something different to everyone with whom she interacted. She visited the department and met with her special persons on every visit she made to Jamaica. If anyone missed her on any of those occasions, they would openly sigh then begin a conversation.
On the morning of May 29, 2015, to many "no farewell words were spoken, no time to say goodbye' (she) was gone before they knew it and only God knows why." (Unknown Author)
Here endeth the Tribute from the Estate Management Department. May her soul rest in peace and light perpetually shine upon her.