The UWI Mona has taken steps to model environmental sustainability in its operations, policy, research, teaching and outreach.
Energy Efficiency
The UWI, Mona has implemented a number of measures to improve energy efficiency on the campus.



Installation of occupancy sensors in buildings to minimise energy use




Retrofitting of lighting fixtures with energy efficient replacements in select buildings




Retrofitting of air conditioning units




Smart metering for electricity




Regular energy audits




The refrigerant in the air-conditioning system was replaced with a more cost-effective, environmentally friendly type




A power capacitor bank was installed to enhance the efficiency of power usage




A central Computerized Energy Management System has been installed to measure the improvements gained from the implementation of various energy conservation measures.

 

 
Alternative/Renewable Energy
Select areas of the Faculty of Science and Technology run on solar and wind energy.
Water Efficiency
The use of recycled water on major lawns such as the University Chapel. The installation of low flush toilets in heavily trafficked areas.
Recycling
A major recycling project includes placement of more than 300 plastic bottle recycling bins across campus. The project includes a partnership with a major recycling enterprise which collects the bottles on a weekly basis for processing.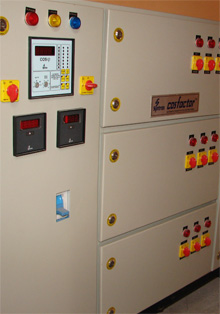 Trees cut down are replaced. Grass and flowering shrubs removed to make way for new buildings are now being re-planted on the rooftop of new buildings, such as the Faculty of Medical Sciences Teaching & Research Complex. This aids in cooling the building during the day. New parking areas now feature more 'grass-crete' (grassed areas) instead of asphalted concretes.
The UWI Mona now uses environmentally-friendly paint products, such as trowel-on finishes on some of the buildings, instead of the standard paints. The limestone-based trowel-on finish has been used predominantly on the new Faculty of Law building next to the Mona School of Business and Management (MSBM). This can last 15-20 years with just a wash with water once per year.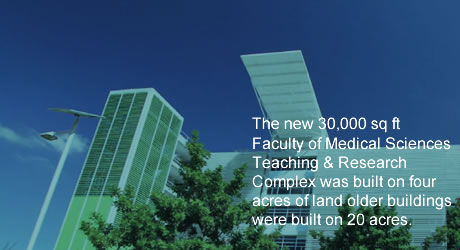 Green Outreach
Under the campus recycling project, dozens of plastic bottle recycling bins have been placed in other educational institutions in Kingston, the capital city of Jamaica. The project also conducts outreach to schools around the island to promote recycling and sustainability.
A number of programmes are offered in the environmental sciences through the Faculty of Science and Technology. These include Environmental Biology, Environmental Physics and Environmental & Natural Resource Management; Occupational & Environmental Safety and Health (research degree).
The Biodiversity Teacher Education Project, a collaborative effort between the Institute of Education, the Joint Board of Teacher Education and the Jamaica Environment Trust, aimed to infuse biodiversity content into subjects across the curriculum being taught in teachers' colleges. The main objective was to educate a more environmentally knowledgeable and sensitive teacher in every subject and to begin exposing young children to the importance of environmental protection and sustainability.
Green Policy
A sustainable campus coordinating mechanism is being established to monitor and drive green campus initiatives through an integrated whole college approach to sustainability. A Technical and Environmental Committee currently reviews all infrastructural projects on campus to ensure that environmentally sensitive areas are addressed.
Green Students
Most of the halls of residence on the Mona campus have very active environmental clubs.