Opening ceremony: Rastafari Unconquerable exhibition
Categories:
Event Date:
Jul 21 2013 - 11:00am
The Institute of Caribbean Studies in association with the National Museum of Jamaica and the Ethiopia Africa Diaspora Union Millennium Council present an exhibition that will reveal the character of one of the worl'd most significant liberation movements - Rastafari. An opening eceremony takes place Sunday July 14th while the exhibition will run for one year at the Institute of Jamaica.
Download event flyer HERE
Venue:
Institue of Jamaica lecture Theatre, 10 - 16 east Street, Kingston
Target Audience:
Students
Target Audience:
General Public
Event Image: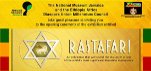 Categories
Academic Diary
Refer to this calendar for important academic dates eg. start of exams, registration and graduation dates, etc.