On Campus radio show: Orientation 2013 - The preparation , the schedule & student feedback
Categories:
Event Date:
Jul 21 2013 - 2:00pm
Event Date:
Jul 21 2013 - 4:00pm
This Sunday July 21 in 'On Campus':

Orientation 2013 starts next Sunday July 28th with special sessions for parents, guardians and spouses. Jason McKenzie talks about the preparations and a 2nd year student issues an invitation for new students to make it Orientation 2013.
Plus,
News on the award winning book edited by UWI Mona Professor Carolyn Cooper.

And in our calendar, the experts speak Tax Reform.

Tune in this Sunday for more.

Event Image: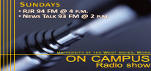 Categories
Academic Diary
Refer to this calendar for important academic dates eg. start of exams, registration and graduation dates, etc.