On Campus radio show: Nintendo becomes a physical therapy tool at UWI Mona
Categories:
Event Date:
Jul 28 2013 - 2:00pm
Event Date:
Jul 28 2013 - 4:00pm
This Sunday, July 28 in 'On Campus':

UWI Mona discovers that the Nintendo Wii video game can be effectively used in physical therapy for cerebral palsy patients. The fascinating story is told by Dr Sharmella Roopchand-Martin of the Department of Physical Therapy. Plus

Software Engineering is being placed firmly on the radar at UWI Mona's Department of Computing. Head of the Deaprtment, Dr. Ezra Mugisa and visiting Professor Robert France speak about opportunities and progress.

Tune in to On Campus for the details, the news and the calendar events,plus a count down to Orientation 2013 activities.
Venue:
RJR 94 FM (4 p.m.) and News Talk 93 FM (2 p.m.)
Target Audience:
Students
Target Audience:
General Public
Event Image: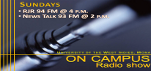 Categories
Academic Diary
Refer to this calendar for important academic dates eg. start of exams, registration and graduation dates, etc.