On Campus radio show: The Orientation 2013 countdown & a Conference focused on healing the hurts of the past
Categories:
Event Date:
Aug 4 2013 - 2:00pm
Event Date:
Aug 4 2013 - 4:00pm
Next 'On Campus'

The Guild gets ready to welcome new students for Orientation 2013: Tell new students to listen up for a schedule of entertainment, academic and sporting events to welcome them to the home of the Pelicans.
And

The Rastafari Studies Conference and General Assembly starting next weekend remembers past wrongs with an emphasis on healing and restoration. Dr Jahlani Niaah weighs in on the themes and events designed to show empathy and understanding to hurt members of the Rastafari community.

Join us this Sunday as usual, for a rundown of news, interviews and events as we continue our countdown to new Students Orientation 2013.

Venue:
RJR 94 FM (4 p.m.) and News Talk 93 FM (2 p.m.)
Target Audience:
Students
Target Audience:
General Public
Event Image: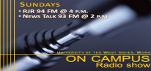 Categories
Academic Diary
Refer to this calendar for important academic dates eg. start of exams, registration and graduation dates, etc.