On Campus radio show: Orientation 2013 countdown AND UWI Student Leadership workshop spreads its wings
Categories:
Event Date:
Aug 11 2013 - 2:00pm
Event Date:
Aug 11 2013 - 4:00pm
This Sunday, August 11, in 'On Campus':
Clubs and Societies head to Orientation 2013 to network and grow their membership - The opportunities, the fun and personal development goals are highlighted by Paulene Richards of the Office of Student Services and Development (OSSD).
Plus,

The UWI Student Leadership Workshop welcomes tertiary schools across the country - a first - while focusing Workshop sessions on preparing students to lead in times of crisis.

Tune in to On Campus this Sunday AUgust 11 for the interviews, news and events of the Mona Campus.
Venue:
RJR 94 FM (4 p.m.) and News Talk 93 FM (2 p.m.)
Target Audience:
Students
Target Audience:
General Public
Event Image: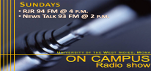 Categories
Academic Diary
Refer to this calendar for important academic dates eg. start of exams, registration and graduation dates, etc.