On Campus radio show: Sponsors court UWI students with prizes, giveaways, special rates
Categories:
Event Date:
Aug 18 2013 - 2:00pm
Event Date:
Aug 18 2013 - 4:00pm
On Campus this Sunday, August 18:

Sponsors come aboard New Students' Orientation 2013 with special rates, prizes and giveaways for UWI Mona students. First up is Bill Express, the fee payment place from Grace Kennedy. Patria Kaye Aarons, Sponsorship and Communications Manager announces cash and in kind giveaways just for universty students,

Plus:

International students have their day on Monday August 19th, as Orientation 2013 rolls out the red carpet for new students. The International Student Office's Hermine Tyrell outlines the programme designed just for foreign students, and reveals how local students can also take advantage of study abroad and student exchange programmes.

We are in Orientation 2013 countdown mode as On Campus brings the news, events and highlights leading into a brand new Semester. Tune in.
Venue:
RJR 94 FM (4 p.m.) and News Talk 93 FM (2 p.m.)
Target Audience:
Students
Target Audience:
General Public
Event Image: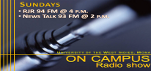 Categories
Academic Diary
Refer to this calendar for important academic dates eg. start of exams, registration and graduation dates, etc.