On Campus radio show: Twenty two A's in CSEC & CAPE subjects? Hear how our Matriculant did it
Categories:
Event Date:
Sep 8 2013 - 2:00pm
Event Date:
Sep 8 2013 - 4:00pm
Next On Campus:
UWI Mona Matriculant Andrew Ellis begins his transition from Glenmuir High sixth former to UWI Mona Medical Student. Hear how he landed 11 A's at CSEC and 11 A's at CAPE to land the coveted spot of student with the highest grades entering UWI Mona.
Plus,
Errol Miller, Professor Emeritus is to be honoured with an annual lecture focused on education. Dr Marcia Stewart of the Joint Board of Teacher Education gives an overview and discloses the name of the regional heavyweight who is slated to be Guest lecturer.
Tune in this Sunday for the details, news and calendar events
Venue:
RJR 94 FM (4 p.m.) and News Talk 93 FM (2 p.m.)
Target Audience:
Students
Target Audience:
General Public
Event Image: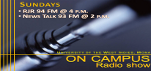 Categories
Academic Diary
Refer to this calendar for important academic dates eg. start of exams, registration and graduation dates, etc.