On Campus radio show: UWI stays cutting edge with lecture focused on technology in education
Categories:
Event Date:
Oct 6 2013 - 2:00pm
Event Date:
Oct 6 2013 - 4:00pm
Next On Campus:

Two major lectures scheduled for next week take the spotlight:

The 5th UWI/Guardian Life Premium Teaching Lecture places emphasis on technology in education. Dr Mervin Chisholm of the Centre for Excellence in Teaching and Lecture gives details.

Plus,

A Conference to honur Professor Rupert Lewis highlights his pioneer work in Black radicalism.
Also in the Campus news, the annual Walter Rodney Lecture takes place next Thursday, October 10

Tune in to On campus for the details.
Venue:
RJR 94 FM (4 p.m.) and News Talk 93 FM (2 p.m.)
Target Audience:
Students
Target Audience:
General Public
Event Image: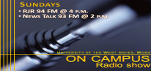 Categories
Academic Diary
Refer to this calendar for important academic dates eg. start of exams, registration and graduation dates, etc.