UWI Venture Competition - Deadline Fri.Oct 11
Categories:
Event Date:
Oct 11 2013 (Time To Be Announced)
The UWI Venture Competition welcomes teams of four or five persons to submit interesting and exciting business ideas. The winner will get a chance to develop their business skills, represent UWI at the Venture Challenge Competition in the USA and win start up funds for their business. Deadline is Friday, October 11. Enter today for a chance to win. Download flyer HERE.
Venue:
Mona School of Business and Management (MSBM)
Target Audience:
Students
Event Image: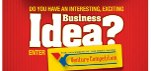 Categories
Academic Diary
Refer to this calendar for important academic dates eg. start of exams, registration and graduation dates, etc.