On Campus radio show: It's a Silver Musgrave Medal for Prof. Michael Taylor
Categories:
Event Date:
Oct 13 2013 - 2:00pm
Event Date:
Oct 13 2013 - 4:00pm
Next On Campus:
We interview Silver Musgrave Medal Awardee, Professor Michael Taylor - Head of the Department of Physics - on his work in Climate Change. Professor Taylor talks of the Climate Studies Group's work in modelling the changes in temperature, sea levels and more, and the projected impacts on our nations.
Plus: In the news - details on the CB group/UWI 5K,how you and your teams can sign up and the brand new features; Plus, TALK - the music, poetry and comedy series -returns with mature, freestyle, 'open mic' entertainment for tertiary level students and their collegaues. We have the details.
This and more, as always, keeps you on the pulse of UWI Mona. Tune in.
Venue:
RJR 94 FM (4 p.m.) and News Talk 93 FM (2 p.m.)
Target Audience:
Students
Target Audience:
General Public
Event Image: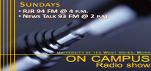 Categories
Academic Diary
Refer to this calendar for important academic dates eg. start of exams, registration and graduation dates, etc.