On Campus radio show: New chapters and new beginnings at UWI Mona
Categories:
Event Date:
Oct 27 2013 - 2:00pm
Event Date:
Oct 27 2013 - 4:00pm
Next 'On Campus':

New chapters are to be written at UWI Mona as thousands graduate in ceremonies next week; Professor Archibald McDonald is officially installed as Principal, and Professor Tara Dasgupta celebrates life as a Commander of the Order of Distinction.

Plus:

A UNICEF-funded conference in its seventh year inspires evidence based work on children's issues. Dr Aldrie Henry-Lee tells us all about the Caribbean Child Reearch Conference 2013.

The campus is busy and the calendar is full. Tune in for all the details in news and interviews, this Sunday.

Venue:
RJR 94 FM (4 p.m.) and News Talk 93 FM (2 p.m.)
Target Audience:
Students
Target Audience:
General Public
Event Image: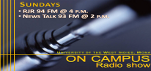 Categories
Academic Diary
Refer to this calendar for important academic dates eg. start of exams, registration and graduation dates, etc.