On Campus radio show: Are you ready for the CB Group/UWI 5K?
Categories:
Event Date:
Nov 10 2013 - 2:00pm
Event Date:
Nov 10 2013 - 4:00pm
Next 'On Campus':

UWI Blood Drive 2013 is on next week. The life you save may be your own or that of a dear family member or friend. Dr Blossom Anglin Brown tells all you need to know to donate bloood.

Plus, on your marks, the annual CB Group/UWI 5K is on again with brand new features. Kaydian Martin, UWI Mona Marketing Officer and Alicia Bogues, Brand Manager of title sponsor, CB Foods tells us how you can get fit for race day, register and come on board as a sponsor.

'On Campus' has the details including news on a number of UWI Mona firsts plus the week's calendar this Sunday,Nov. 10. Tune in.

Venue:
RJR 94 FM (4 p.m.) and News Talk 93 FM (2 p.m.)
Target Audience:
Students
Target Audience:
General Public
Event Image: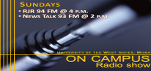 Categories
Academic Diary
Refer to this calendar for important academic dates eg. start of exams, registration and graduation dates, etc.