On Campus radio show: 'Choice of a Lifetime' for prospective Dentists, Engineers & Scientists
Categories:
Event Date:
Dec 15 2013 - 2:00pm
Event Date:
Dec 15 2013 - 4:00pm
Next On Campus:
We continue our radio series 'Choice of a Lifetime' lifting the lid on relatively new programmes in the sciences - Dentistry, Engineering and Climate Change- plus others offering options in life sciences, physics and other disciplines.

Plus, we have news on UWI Mona's Christmas seasonal events including a special concert hosted by the Principal and a Farmer's Market.

'Tis the season for jolly happenings, and On Campus as usual provides the reports, interviews and events calendar to keep you in the know.
Venue:
RJR 94 FM (4 p.m.) and News Talk 93 FM (2 p.m.)
Target Audience:
Students
Target Audience:
General Public
Event Image: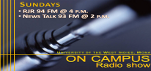 Categories
Academic Diary
Refer to this calendar for important academic dates eg. start of exams, registration and graduation dates, etc.