Book Launch: Plantation to Nation
Categories:
Event Date:
Mar 14 2014 - 1:00pm
The UWI Museum and the National Musuem of Jamaica will launch the book, Plantation to Nation: Caribbean Museums and National Identity. The main speaker is Co editor, Alissandra Cummins, Director, Barbados Musuem and Historical Society
Venue:
UWI Museum, UWi regional headquarters
Target Audience:
Students
Target Audience:
General Public
Event Image: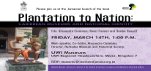 Categories
Academic Diary
Refer to this calendar for important academic dates eg. start of exams, registration and graduation dates, etc.