On Campus radio show: Our disappearing natural heritage. Professor Byron Wilson sounds the alarm
Categories:
Event Date:
May 11 2014 - 2:00pm
Event Date:
May 11 2014 - 4:00pm
In his inaugural Professorial Lecture, Professor Byron Wilson continues his crusade for Jamaica's endemic natural heritage. He joins us to outline the value of Jamaica's endemic wildlife, and the true cost of their disappearance.

Plus, International Students' Office's Althea Gordon Clennon talks about the successes of the study abroad programmes, and shows students how they can spread their wings while at UWI Mona.

Join us this Sunday, same place, same time for the details, including current news and events at the ever-busy Mona Campus.


Venue:
RJR 94 FM (4 p.m.) and News Talk 93 FM (2 p.m.)
Target Audience:
Students
Target Audience:
General Public
Event Image: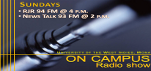 Categories
Academic Diary
Refer to this calendar for important academic dates eg. start of exams, registration and graduation dates, etc.