On Campus radio show: Bee industry under attack. UWI steps in with major plan of action
Categories:
Event Date:
May 18 2014 - 2:00pm
Event Date:
May 18 2014 - 4:00pm
UWI Mona Law Students will get professional on the job training starting this Summer under a new internship programme. Faculty of Law Lecturer, Mrs Natalie Courthesy drops by with details of the programme and next week's launch. Plus, what ails the bee industry? We explore the negative impact of pesticides on the bee industry and how a UWI Mona Public Forum aims to help, with Professor Emeritus in the Department of Chemistry, Professor Tara Dasgupta.
Tune in same time, same place for the details.
Venue:
RJR 94 FM (4 p.m.) and News Talk 93 FM (2 p.m.)
Target Audience:
Students
Target Audience:
General Public
Event Image: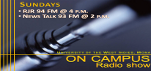 Categories
Academic Diary
Refer to this calendar for important academic dates eg. start of exams, registration and graduation dates, etc.