On Campus radio show: Dr Peter Nelson, the 25 year old PhD on his way to Israel
Categories:
Event Date:
Jun 29 2014 - 2:00pm
Event Date:
Jun 29 2014 - 4:00pm
Next On Campus:
Dr. Peter Nelson powered past several obstacles, including poverty to earn his PhD at age 25. Next stop? The Weizmann Institute of Science in Israel, where he beat 280 hopefuls around the world to secure one of five coveted post doctoral fellowships. Join us this Sunday for our one-on-one conversation with Dr. Nelson on his motivations, his dreams and the journey from St. Thomas to UWI Mona.

Tune in this Sunday for our detailed interview plus the news and the events calendar .
Venue:
RJR 94 FM (4 p.m.) and News Talk 93 FM (2 p.m.)
Target Audience:
Students
Target Audience:
General Public
Event Image: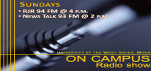 Categories
Academic Diary
Refer to this calendar for important academic dates eg. start of exams, registration and graduation dates, etc.