APPLIED LINGUISTICS SYMPOSIUM
Categories:
Event Date:
Mar 21 2017 -

5:00pm

-

6:00pm
Department of Language, Linguistics and Philosophy
APPLIED LINGUISTICS SYMPOSIUM
LINGUISTIC DISCRIMINATION IN JAMAICA'S PUBLIC SECTOR
Students will present findings from their Language Attitudinal survey.

Service Representatives should use Jamaican when speaking with speakers of Jamaican.

Representatives from the Jamaica Customer Service Association and the Public Sector Modernisation Committee will join us!

Government documents should be provided in Jamaican.

Presentations from Prof. Hubert Devonish & Dr.

Celia Brown-Blake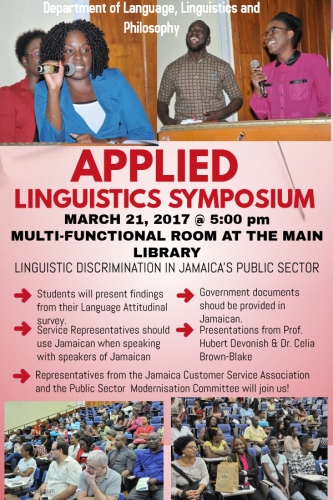 Venue:
MULTIFUNCTIONAL ROOM AT THE MAIN LIBRARY
Event Image: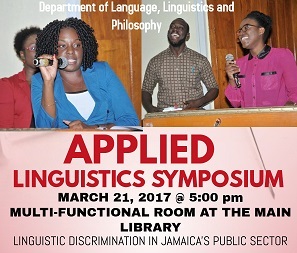 Categories
Academic Diary
Refer to this calendar for important academic dates eg. start of exams, registration and graduation dates, etc.