Faculty of Humanities and Education 2nd Annual Distinguished Lecture
Categories:
Event Date:
Apr 6 2017 -

6:00pm

-

7:00pm
The Faculty of Humanities and Education cordially invites you to its 2nd Annual Distinguished Lecture on April 6, 2017 at 6:00 p.m. in the Neville Hall Lecture Theatre. This year's Lecture will be delivered by Professor Hopeton Dunn, Director of the Caribbean Institute of Media and Communication (CARIMAC), and Professor of Communications Policy and Digital Media, UWI, on the topic "Globalization from Within: Confronting 'Technopoly', Digital Literacies and our Robotic Futures".
The Lecture will explore the main features of what is now described as the 'Fourth Industrial Revolution' or the Era of 'Technopoly'. It will discuss the leading technology concepts that are re-defining the meaning of work, re-prosing our use of language, transforming the future of entertainment, and forging new cybernetic tools that threaten to dominate human agency. Who will control nano-robots that self-programme, that are embedded in humans and that communicate with each other through advanced artificial intelligence? How will small developing countries such as those in the Caribbean cope with the economic, cultural and digital literacy requirements of these emerging technological purveyors of 'Globalization from Above'? The Lecture will offer insights in exploring the new alternative concept of 'Globalization from Within'.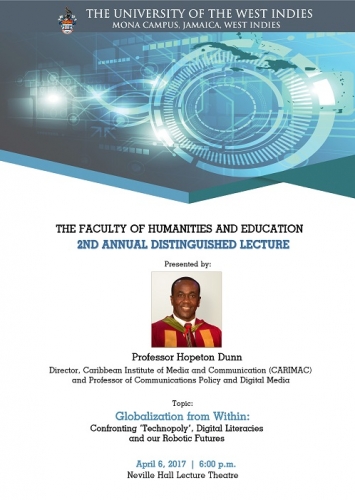 Venue:
Neville Hall Lecture Theatre
Target Audience:
General Public
Event Image:
Categories
Academic Diary
Refer to this calendar for important academic dates eg. start of exams, registration and graduation dates, etc.