BATTING SUPERSTAR GAYLE AND FAST BOWLER PATTERSON FOR VICE-CANCELLOR'S CRICKET HONOURS
Categories:
Event Date:
Jul 19 2018 - 2:00pm
Batting superstar Chris Gayle and Legendary West Indies fast bowler Patrick Patterson will be the special honourees at the 19th Annual Vice Chancellor's Cricket Match. The Match which is free to the public, is scheduled for Thursday, July 19, 2018 at Sabina Park at 2:00 p.m.
The Vice Chancellor's XI will play the Bangladesh international touring team in a one-day 50 overs day/night match. The Match is a part of the University of the West Indies' 70th Anniversary celebrations.
Included in the Vice Chancellor's XI are current West Indies Test players Chris Gayle, and Chadwick Walton (Captain) as well as UWI players O.J. Sheilds, Oshane Walters, Rovman Powell, Andre Rusell, Amir Jangoo, Yannick Ottley, Jarlani Searles, Vikash Modan, Nicholas Kirton, Kavem Hodge, Jermaine Levy and Gilon Tyson.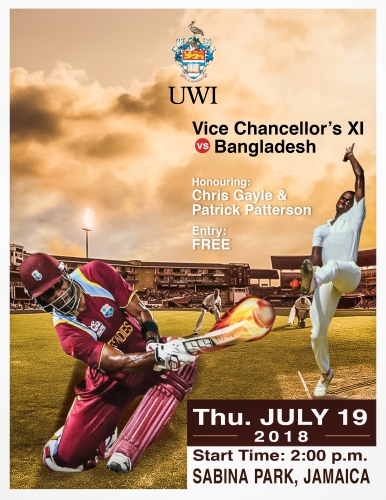 (more)
Vice Chancellor's Cricket Match …/2
The University has over the past 19 years used the occasion to honour West Indian cricketers deemed to have made outstanding contributions to West Indies Cricket. West Indies legends Michael Holding, Sir Vivian Richards, Gordon Greenidge, Jeffrey Dujon, Desmond Hayles, Andy Roberts, Courtney Walsh and Curtly Ambrose are among some of the past honourees.
Considered by many to be the greatest batsman in limited-overs cricket, Chris Gayle has set records across all three formats of the game, but specifically in T20.
He is one of only four players who have scored two triple centuries at Test level: 317 against South Africa in 2005, and 333 against Sri Lanka in 2010. Gayle became the first batsman in World Cup history to score a double-century, notching 200 off 138 balls against Zimbabwe during the 2105 tournament. He is one of the five players to score a double century in ODIs, and in March 2016, Gayle became only the second player (after Brendon McCullum) to hit two T20 hundreds, scoring 100 not out against England.
Gayle plays domestic cricket for Jamaica, and also represents the Kings XI Punjab in the Indian Premier League (IPL), the Karachi Kings in the Pakistan Super League, and the Rangpur Riders in the Bangladesh Super League.
(more)
Vice Chancellor's Cricket Match …/3
Of this year's honourees, Patrick Patterson is regarded as one of the most fearsome of West Indies fast bowlers. He took seven wickets on debut in 1986, against England. So devastating was his spell that seasoned England batsman Graham Gooch subsequently confessed to being "frightened" by the right-arm fast bowler.
When Michael Holding was contemplating retiring from the sport in the summer of 1987, those in the West Indies cricket circle were not losing sleep on replacing him as the young, lanky fast bowler Patterson made his debut for Jamaica. With a father and grandfather who played district cricket themselves, Patterson acquired the right traits at an early age. Tales of the pace he generated at the time of release and off the turf (apparently inherited from his grandfather) travelled like a wildfire, even beyond the shores of the Caribbean islands. Before he donned the national colours in 1986, Patterson was already roped in by Lancashire in the English County Championship and Tasmania in the Sheffield Shield. Here was a bowler, they believed, who was on par with Holding and Marshall.
Venue:
Sabina Park, Kingston, Jamaica
Target Audience:
Students
Target Audience:
General Public
Event Image: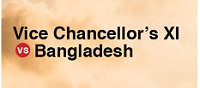 Categories
Academic Diary
Refer to this calendar for important academic dates eg. start of exams, registration and graduation dates, etc.