BEYOND HOMOPHOBIA: Navigating the State
Categories:
Event Date:
Jan 24 2019 - 6:00pm
-
Jan 26 2019 - 9:00pm
The Faculty of Social Sciences, Institute of Caribbean Studies, Faculty of Law, JFLAG, Caribbean Vulnerable Communities Coalition, Jamaicans for Justice, and UNDP present the second biennial staging of the Beyond Homophobia conference, from January 25-26, 2019, under the theme "Navigating the State". Academics, artists and activists from the region, diaspora and Latin America will discuss the varied ways in which LGBTQ individuals and communities position themselves vis-a-vis the state. The conference welcomes keynote speaker Mr Philip Dayle, Jamaican-British human rights lawyer, on Friday January 25th at6pm at the Undercroft.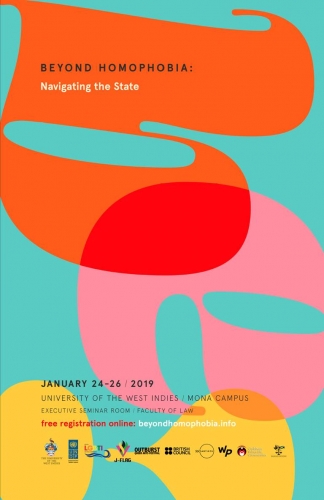 Venue:
Executive Seminar Room, The Faculty of Law, The UWI, Mona Campus
Target Audience:
Students
Target Audience:
General Public
Event Image:

Categories
Academic Diary
Refer to this calendar for important academic dates eg. start of exams, registration and graduation dates, etc.