COVID-19 TASK FORCE: Informing the Caribbean's Response
Categories:
Event Date:
Mar 30 2021 (Time To Be Announced)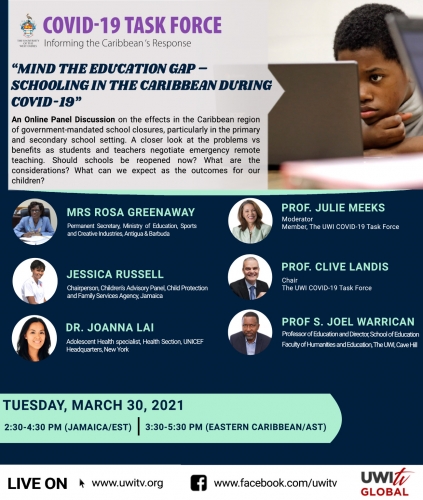 On Tuesday, March 30, the COVID-19 Task Force will host a panel discussion themed, Mind the Education Gap: Schooling in the Caribbean during COVID-19.
Bringing together health, education and child protection specialists, the online panel discussion will examine the effects in the Caribbean region of government-mandated school closures, particularly in the primary and secondary school setting. The experts will take a closer look at the problems vs benefits as students and teachers negotiate emergency remote teaching. Should schools be reopened now? What are the considerations? What can we expect as the outcomes for our children?
The virtual forum will feature:
− Professor Julie Meeks, Moderator, Member, The UWI COVID-19 Task Force
− Pro Vice-Chancellor, Professor Clive Landis, Chair, The UWI COVID-19 Task Force
− Mrs Rosa Greenaway, Permanent Secretary, Ministry of Education, Sports and Creative Industries, Antigua & Barbuda
− Professor S. Joel Warrican, Professor of Education and Director, School of Education, Faculty of Humanities and Education, The UWI, Cave Hill
− Jessica Russell, Chair, Children's Advisory Panel, Child Protection and Family Services Agency, Jamaica
− Dr Joanna Lai, Adolescent Health Specialist, Health Section, UNICEF Headquarters, New York
Target Audience:
Students
Target Audience:
General Public
Event Image:
Categories
Academic Diary
Refer to this calendar for important academic dates eg. start of exams, registration and graduation dates, etc.