Meeting of University Council
Categories:
Event Date:
Apr 30 2021 - 9:00am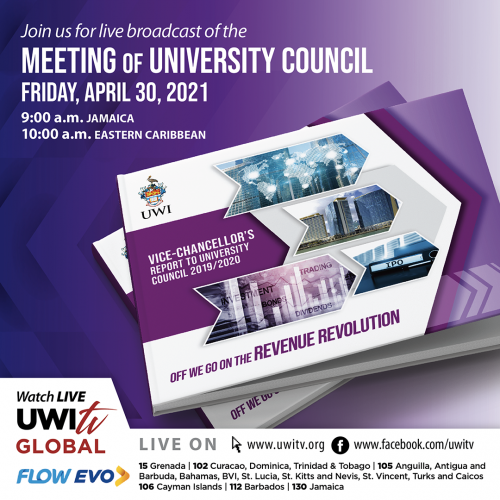 Tune in this Friday, April 30 for live broadcast of the public session of the Annual Meeting of University Council which includes Vice-Chancellor, Professor Sir Hilary Beckles' report of the year in review. Vice-Chancellor's report to University Council 2019/2020 is themed: Off we go on the Revenue Revolution.
Friday, April 30, 2021 from 10:00 a.m. Eastern Caribbean | 9:00 a.m. Jamaica
www.uwitv.org, www.facebook.com/UWITV OR UWItv Cable TV channels on the FLOW EVO network.
Event Image:
Categories
Academic Diary
Refer to this calendar for important academic dates eg. start of exams, registration and graduation dates, etc.