Peer Assistance Teaching Initiatves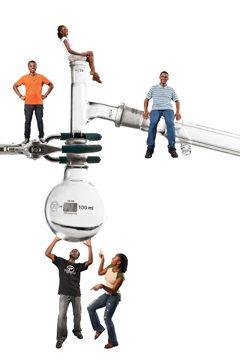 The Department of Chemistry's Peer-Led Team Learning (PLTL) and Science Writing Heuristic (SWH) initiatives aim to develop graduates who possess well-developed critical thinking, problem-solving and communication skills, and are ready to assume leadership positions worldwide.
These initiatives are student-centred approaches built upon a constructivist view to teaching and learning with strong emphasis on teamwork and the development of critical thinking skills.
The SWH project is a laboratory-based initiative where students work in teams to formulate researchable questions, decide what data will be needed to answer such questions, carry out experiments designed to answer the questions, make suitable claims, and provide evidence in support of these claims. The Peer-Led Team Learning project also involves students working together in small groups in a workshop setting to solve problems relating to their course of study.
Both the PLTL and the SWH have resulted in gains for students. The PLTL has seen significant improvement in students' examination scores, while students have reported improved critical thinking, writing, team work and time management skills.
The research team involved in these interventions comprises graduate students Norda Stephenson (SWH) and Imron Miller (PLTL) with Dr. Novelette Sadler-McKnight as Supervisor.
Categories
Academic Diary
Refer to this calendar for important academic dates eg. start of exams, registration and graduation dates, etc.