DANIEL COORE PROMOTED TO THE RANK OF PROFESSOR
Posted: March 07, 2016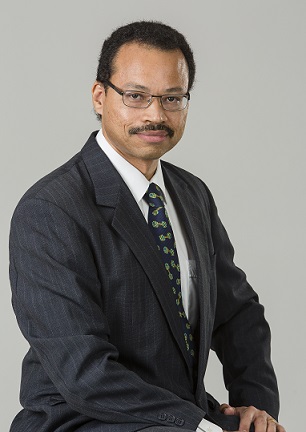 The University of the West Indies, (UWI) Mona is pleased to announce the promotion of Senior Lecturer in the Department of Computing, Faculty of Science & Technology, Dr. Daniel Coore, to the rank of Professor.
Dr. Coore holds the Bachelor of Science degree in Computer Science and Engineering, the Master of Science in Electrical Engineering and Computer Science as well as the Doctor of Philosophy in Computer Science degrees from Massachusetts Institute of Technology (MIT), Cambridge, Massachusetts.
He joined the staff of The UWI, Mona in 1999 as Lecturer in the then Department of Mathematics and Computer Science and was promoted to Senior Lecturer in 2006. He served in several key positions in the department including being Head of Department
Dr Coore is an outstanding researcher with a focus on two main areas - Amorphous Computing and the UWI Cardiac Surgery Simulator – and has had success leading a research group at UWI, as well as in his previous work at MIT. He is a pioneer in the field of amorphous computing, producing the first PhD thesis in that area and continuing that work at Mona. The results of this work are internationally recognized and highly influential having been cited over 600 times.
His work on the UWI cardiac surgery simulator is technically impressive and has had substantial impact on cardiac surgery training in the USA. That work also informed the licensing strategies that were used to provide opportunities for commercialization. Indeed, he participated on the negotiating team to license the patent rights of the UWI Cardiac Surgery Simulator to a startup company based in North Carolina, USA, marking the first instance of commercialisation of a patent by The UWI, Mona.
The cardiac surgery simulator is designed to train cardiac surgery residents in certain open-heart procedures, similar to the way in which flight simulators are used to train pilots. As a result of his groundbreaking work in this field, Dr. Coore was named recipient of the Principal's Award for Innovation in 2012. He also received the Innovation awards in Science and Technology for the cardiac surgery simulator and the Morris Joseph Levin Memorial Award for best presentation of his Master's thesis work in the semi-annual MIT EECS Master Works Oral Presentations
Daniel Coore has been an active member of his Department and the University, taking on a number of administrative roles and undertaking teaching activities. He lectures in both the undergraduate and graduate programmes in the Department of Computing and is an active member of the department's curriculum sub-committee. He has also served on a number of campus- and university-level committees, including Council, and is a Fellow and Director at the Mona GeoInformatics Institute.
His public service includes participation on the UCJ Board of Studies for Computing (formerly IT), which is responsible for defining standards for tertiary level degree programmes in Computing related fields. He was recently (2015) appointed chairman of that Board. Dr Coore has also given invited talks at various conferences (e.g. Caribbean Growth Forum, (Association of Higher Education Administrators (ACHEA), ICT4D), and is an advocate for the use of Free and Open Source Software (FOSS)
Dr Coore has published regularly in peer-reviewed conference proceedings and is the author of the book "The Growing Point Language: A Developmental Approach to Generating Interconnect Topologies on an Amorphous Computer. He has also published book chapters, short monographs and journal articles.
He is a member of the Association for Computing MachineryACM, the Institute of Electrical and Electronics Engineers (IEEE) and the Caribbean Academy of Science.