The UWI Open Campus Mourns Passing of Sir Dwight Venner
Posted: December 23, 2016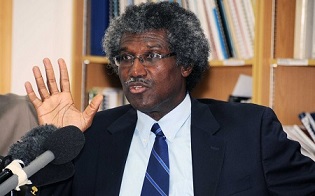 The leadership, staff and students of the UWI Open Campus mourn the passing of our Campus Council Chair Sir Dwight Venner on Thursday December 22, 2016. Sir Dwight was a regional giant whose passion, dedication and commitment to the development of the people of the region were legendary. It was therefore no surprise that in 2008 Sir Dwight agreed to serve as the first Chairman of the newly formed Open Campus, a post that he held right up to the time of his passing.
Sir Dwight was committed to the success of the Campus which he saw as integral to the development of the human capital in his beloved Caribbean. As a UWI Alumnus and former Lecturer in the Department of Economics at Mona, Sir Dwight was resolute that the UWI had to be the engine for change and growth of the people of the region. He was indefatigable in his advocacy of the UWI Open Campus and its mission to serve the underserved of the region.
In his statement to the Campus Council in 2015, Sir Dwight stressed that the University of the West Indies was ideally situated to lead the regional renewal of the Caribbean, and that the Open Campus played a seminal role in this effort. His own contributions to this mission, particularly through his 26 years of service to the Eastern Caribbean Central Bank as Governor, have been transformational for this region.
The Open Campus is grateful for his leadership, his support and his guidance over the past 8 years. We will feel his absence deeply as we move towards our new strategic plan for 2017-2022, but are comforted by the knowledge that he has helped to lay a strong foundation for the future of the Campus, the University and his beloved region.
We offer our sincere condolences to his wife and children on this sad loss of a beloved husband and father. The entire region shares in mourning the loss of this lion of a man whose quintessential Caribbean persona will live on through the institutions he built.