DALIP RAGOOBIRSINGH IS 2017 RECIPIENT OF CARICOM SCIENCE AWARD
Posted: February 07, 2017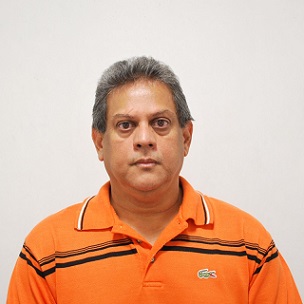 Director of the UWI Diabetes Education Programme and Professor of Medical Biochemistry and Diabetology, Prof. Dalip Ragoobirsingh, has been named joint recipient of the 2017 Caribbean Community (CARICOM) Science Award.
The CARICOM Science Award represents recognition of the leading scientists of the region. The Award is a joint effort between CARISCIENCE and the CARICOM Secretariat and is meant to give recognition and visibility to outstanding scientific achievements made by individuals from the CARICOM countries.
It was first introduced in 2006 by the then Prime Minister for Science and Technology in CARICOM, the Rt. Honorable Dr. Keith Mitchell. Selection of awardees is carried out by a jury of internationally renowned scientists and overseen by a Board comprising representatives of CARICOM and CARISCIENCE, which is a sub-regional network of scientists bent on upgrading the academic excellence of graduate, postgraduate and R&D programmes in the Caribbean. CARISCIENCE was launched in June 1999 in Jamaica and operates under the auspices of UNESCO.
In making the award, CARISCIENCE noted that Professor Ragoobirsingh led a multifaceted team which conducted the first all island survey of Diabetes mellitus in Jamaica in 1993. His efforts established the effects of indigenous diets and cultural practices in the Caribbean on blood sugar levels in the body and confirmed that nitric oxide (NO) generating drugs could lead to the development of diabetes.
He was later invited to the Unit of Non-communicable Diseases, Pan American Health Organization (PAHO) headquarters, Washington, DC, USA, to frame a Diabetes Education Curriculum, predicated on his research findings. This was with the proviso that it reflect cultural needs specific to the Caribbean.
Professor Ragoobirsingh delivered lectures from that curriculum while serving as a consultant in a PAHO initiative in 10 Caribbean territories. He also worked along with health planners and providers from the local Ministries of Health in Antigua, Anguilla, Belize, Grenada, Guyana, Jamaica, St. Lucia, Suriname, and Tobago. The specific goal of this project was to achieve real and sustained improvements in diabetes care.
From this PAHO Caribbean initiative fourteen (14) Technical Reports, a major PAHO collaborative manual on Diabetes Education and the Caribbean Chronic Disease Passport, a patient held medical record, were developed, and are being implemented in these territories. His other publications also document evidence for the possible involvement of NO in the factors which produce or predispose toward the development of diabetes mellitus. As a result, it is recommended that patients on treatment for hypertension and other cardiovascular problems with NO- releasing drugs be monitored for the development of secondary diabetes mellitus
Professor Ragoobirsingh's contributions are significant as they have been translated into practice, improving patient care, increasing public awareness and/or informing policy; impacting education as well as health across the region.