UWI Vice-Chancellor salutes Sir Derek as one of the finest intellects of the 20th Century
Posted: March 17, 2017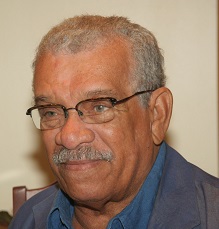 Vice-Chancellor, Professor Sir Hilary Beckles extends condolences on behalf of The University of the West Indies (The UWI) community to the family and loved ones of Sir Derek Walcott who passed away on Friday 17 March, 2017. Walcott, an alumnus of The UWI Mona Campus, graduated in 1953 and was awarded an honorary (DLitt) in 1973. His literary works are known and lauded internationally and he was awarded the Nobel Prize in Literature in 1992.
In addition to his personal works, Sir Derek's legacy is also his contributions to the field of literature regionally and internationally. He founded the Trinidad Theatre Workshop located in Trinidad and Tobago's capital, taught writing and literature at Boston University in the US and a scholarship was established in his name for students enrolled in the Theatre Arts programme at The UWI St. Augustine Campus.
Sharing his sentiments on Walcott's passing, Vice-Chancellor Beckles stated, "One of the finest intellects of the 20th century, a literary phenomenon from the Lesser Antilles, Sir Derek Walcott has gone to meet his maker. A globally respected alumnus of The University of the West Indies, one of its two Nobel laureates from the island of St. Lucia, Sir Derek's scholarly genius was first recognised while a student in the Faculty of Arts at the Mona Campus in Jamaica. His first collection of poems was locally published while still a student. As a student he also engaged in playwriting, which he described as the most complicated literary form.
His entire literary enterprise reflected an extraordinary grasp of world history, Western capitalism and African enslavement, native genocide, the colonisation of Asia, and how these historical forces led to the creation of a unique Caribbean culture that is, in every sense, the first integrated world culture of modernity.
His discourse of Caribbeanness took the literary world on a journey from Timbuktu to Athens, from Columbus's Atlantic voyages and the criminality of its intent and orientation to the magnificence of Caribbean enlightenment revolutions that served to civilise Western modernity—the rise of Toussaint L'Overture's Haiti and Fidel Castro's Cuba.
A poet and intellectual without conceptual borders in a world that insists upon them, Sir Derek lived his life as he imagined his destiny determined. At home in the Caribbean islands with his bloodlines that flowed in his veins from worlds beyond, he was a mind of universal sensitivity, an advocate of humanity before hubris, of sophisticated reasoning and living.
The Caribbean world, and its University of the West Indies that stimulated and empowered him, join with the world of words and communities of creative consciousness, in celebrating this juggernaut whose journey has enlightened us all. The motto of his beloved alma mater, The University of the West Indies, says it best: Oriens Ex Occidente Lux (a light rising from the West). This indeed, was our Sir Derek".
The UWI community is saddened and mourns with Sir Derek's family and loved ones including his two daughters: Professor Elizabeth Walcott-Hackshaw, a current member of staff at The UWI, St Augustine and Ms Anna Walcott-Hardy who is a former employee of the Campus.
More About Sir Derek Walcott
Sir Derek Walcott was awarded the Nobel Prize for Literature in 1992. Born in Castries, Saint Lucia, on January 23, 1930, his first published poem, "1944" appeared in The Voice of St. Lucia when he was fourteen years old, and consisted of 44 lines of blank verse. By the age of nineteen, Walcott had self- published two volumes. He later attended The University of the West Indies, having received a Colonial Development and Welfare scholarship, and in 1951 published the volume Poems. Walcott's honours also include a MacArthur Foundation "genius" award, a Royal Society of Literature Award, and, in 1988, the Queen's Medal for Poetry presented by HRH Queen Elizabeth II. His latest works include White Egrets (Farrar, Straus & Giroux, 2010), Selected Poems (2007), The Prodigal: A Poem (2004), and Tiepolo's Hound (2000). The founder of the Trinidad Theatre Workshop, Walcott has also written several plays produced throughout the United States and Europe including The Odyssey: A Stage Version (1992); The Isle is Full of Noises (1982); Remembrance and Pantomime (1980); The Joker of Seville and O Babylon! (1978). His play Dream on Monkey Mountain won the Obie Award for distinguished foreign play of 1971. He founded the Boston Playwrights' Theatre at Boston University in 1981. In 2016 he was among the first recipients of the knighthood by St. Lucia, as the island celebrated its 37th anniversary of political independence from Britain.