Dr. ASHA BADALOO PROMOTED TO PROFESSOR
Posted: March 21, 2017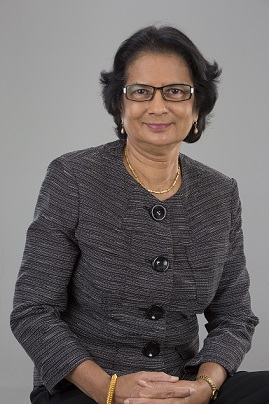 The University of the West Indies is pleased to announce that Dr. Asha Badaloo, Senior Lecturer, Tropical Metabolism Research Unit, Caribbean Institute for Health Research (CAIHR), (formerly Tropical Medicine Research Institute) has been promoted to the rank of professor. The promotion comes in the wake of her academic accomplishments and contribution to her field.
Dr. Badaloo was awarded the BSc. in Chemistry and Biochemistry in 1979 and the MSc. in Human Nutrition in 1985 and her PhD in Human Nutrition/Metabolism in 1999 from the University of the West Indies, Mona. In 2000 she was awarded the Welcome Trust fellowship at the University of Southampton, United Kingdom and the Fulbright Fellowship at the Baylor College in 2009.
Professor Badaloo joined the staff at the University of the West Indies, Mona in 1984 as a Scientific Officer in the Tropical Medicine Research Unit (TMRU). As a result of her distinguished work in research she was promoted to Senior Lecturer in 2008.
Dr Asha Badaloo has a record of research as well as substantial contribution to the University community through graduate training, scholarly and professional service.
She has held a Wellcome Trust Fellowship in the UK and was a Fulbright Scholar at Baylor College of Medicine, USA. Dr Badaloo's main area of research is in the use of stable isotopes to investigate human metabolism and she is a recognised expert in these research techniques.
A substantial part of her research has focused on understanding the impact of severe childhood malnutrition on metabolism of protein and lipids, which has earned international recognition for its contribution to advances in the management of severely malnourished children.
Dr Badaloo has 40 peer-reviewed publications, many in high impact international journals, and three book chapters. She has raised research funds to support her work from the International Atomic Energy Agency (IAEA) and has had several successful international collaborations.
Dr Badaloo contributes to teaching of nutrition on the MBBS and the Masters in Nutrition. She has supervised a number of graduate students and co-ordinates the PhD Nutrition programme. She currently chairs the CAIHR training committee and represents the CAIHR on the FMS Graduate Studies Committee. Dr Badaloo has served on national and regional nutrition committees. She has acted as reviewer for prestigious international journals and has presented her research at several regional and international conferences.
She provides public service as a voluntary nutrition consultant at Prema's free medical clinic and was an active member of the Friends of Bellevue Hospital for five consecutive years.
-
END -