THE UWI, MONA TO TRAIN POLICE RECRUITS UNDER MOU WITH MINISTRY OF NATIONAL SECURITY/ JAMAICA CONSTABULARY FORCE
Posted: August 21, 2017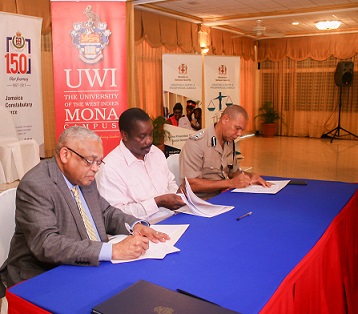 The University of the West Indies, Mona Campus has signed a Memorandum of Understanding with the Ministry of National Security and the Jamaica Constabulary Force (JCF) under which The UWI, Mona will facilitate the training of some 3000 police recruits over a three year period. The MOU is part of an initiative to strengthen the establishment of the police force and negate the attrition rate currently affecting the Jamaica Constabulary Force.
The MOU was signed by Minister of National Security, the Hon. Robert Montague, Deputy Commissioner of the Jamaica Constabulary Force, Mr Clifford Blake, and Principal of The UWI, Mona Campus, Professor Archibald McDonald, at a ceremony held at the Mona Visitors Lodge & Conference Centre at the Mona Camus on Thursday, August 17, 2017.
Under the terms of the agreement, The UWI, Mona will train some 3000 police recruits over a
three year period, in order to boost membership in the JCF from the current 11,000 to a desired 14000 members. The recruits will reside and receive training on campus. They will work with final year social work degree students who will assist with social work initiatives which are critical to the success of the recently announced zones of special operation. The JCF will also collaborate with The UWI, Mona School of Engineering and the Computer Science Department to establish a cyber-team to use technology to disrupt cyber criminals, particularly scamming. Technology will also be used to improve the efficiency of the work of police officers. The UWI will also assist the JCF in areas such as crime scene investigation and forensics, as well as human rights issues.
Speaking at the signing ceremony, Professor McDonald pointed out that the current establishment of the JCF now stands at approximately eleven thousand individuals, but noted that for proper policing it is estimated that the Force would need another three thousand police officers for a total complement of fourteen thousand police officers. The JCF currently has an attrition rate of some 500 police officers annually which negates the overall effect of the limited training and intake of recruits at the police training facility.
Professor McDonald said that The UWI, Mona had decided to embark on the project because it wished to publicly declared its commitment to not only providing high quality training in a world class educational environment, but also to demonstrate institutional understanding of the University's role and responsibility to support national and regional programmes and initiatives for good. He argued that the current situation called for unconventional thinking and unprecedented levels of partnership "Our response is not one of fear and retreat but a proactive solution-oriented approach" he said.