UWI Students benefit from Huawei Seeds for the Future Programme
Posted: November 17, 2017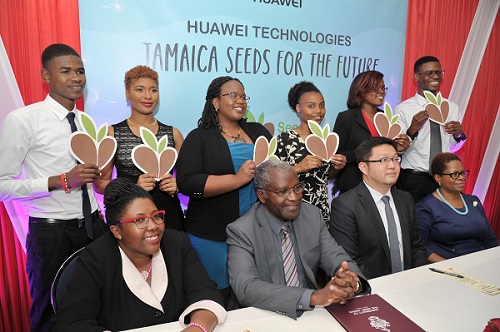 Three students from the Faculty of Science & Technology at The University of the West Indies, UWI) Mona Campus benefitted from an all-expenses paid two-week cultural and work experience trip to China, under a global social responsibility initiative- Seeds for the Future - spearheaded by Huawei, a leading global information and communications technology (ICT) solutions provider.
The students Loya Haughton, Department of Computing, Camille Beckford, Mona School of Engineering, and Anthony Bryan, Department of Physics, were attached to Huawei's headquarters, and gained hands-on experience in ICT technologies, and an introduction to Chinese culture and language.
Speaking at a Welcome Reception held recently at the Courtleigh Hotel & Suites, Huawei's Country Manager in Jamaica, Mr. Logan Shi, noted that his company wanted to bridge the gap between the classroom skills developed by the students, and the hands-on knowledge and skills which were critical to success in the IT field. He added that the student would join other students from Trinidad & Tobago and Guyana. Three students from the University of Technology, Jamaica also participated in the programme.
During the first week of the Seeds for the Future work-study programme, the participants were Huawei's guests in Beijing for an immersive introduction to Chinese language and culture. In week two, participants stayed in Shenzhen and worked with the Huawei team at its Global Headquarters, learning about Huawei's international culture, strategy and values. They also received technical training from some of the finest professionals in the industry.
Initiated by Huawei in 2008, the Seeds for the Future programme seeks to develop local ICT talent, enhance knowledge transfer, promote a greater understanding of, and interest in the telecommunications sector, and improve and encourage regional building and participation in the digital community.
Up to the end of 2016, the program had been implemented in 96 countries and international organization worldwide, benefiting over 30,000 students from 280 universities; among them, more than 2,700 university students from have taken a study trip to the Huawei headquarters.