SALISES AND INSTITUTE OF DEVELOPMENT STUDIES, UK, SIGN MOU
Posted: June 14, 2018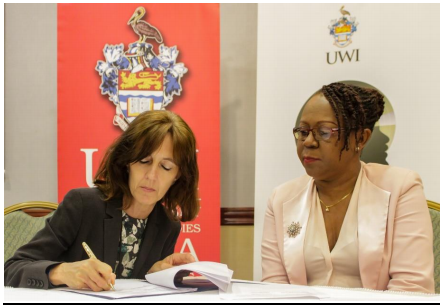 The Sir Arthur Lewis Institute of Social and Economic Studies (SALISES) at the University of the West Indies officially signed a partnership Memorandum of Understanding with the Institute of Development Studies (IDS) based at the University of Sussex in the United Kingdom. The official signing ceremony took place on Thursday April 26 at the 19th Annual SALISES Conference, at the Holiday Inn Resort in Montego Bay, St James from April 25-27, 2018.
(From Left) Director of IDS, Professor Melissa Leach and current University Director of SALISES across all UWI three campuses, Professor Aldrie Henry-Lee.
IDS is a world-renowned independent research institution registered as a charity in the UK, and ranked as the number one institution globally for development studies. SALISES is the Caribbean's premier center for policy research and development studies. IDS and SALISES have agreed to establish collaborative links between both institutions in the areas of teaching and research.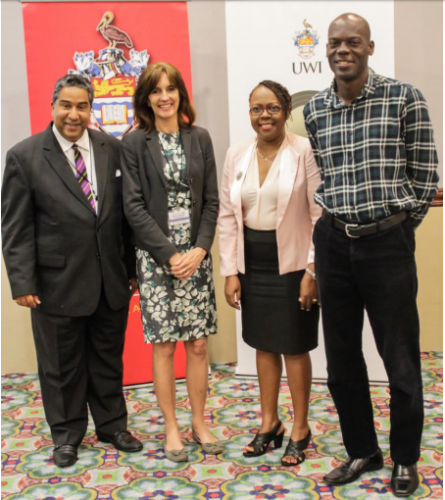 Director of IDS, Professor Melissa Leach, signed the agreement after delivering the conference's Distinguished Lecture. SALISES is a regional institution In addition to the Mona Campus branches in Jamaica, it also extends to the St Augustine campus in Trinidad and the Cave Hill Campus in Barbados. Director SALISES Mona, Professor Aldrie Henry-Lee is the current University Director of SALISES across all three campuses. Professor Henry-Lee represented the UWI at the signing ceremony. "This MOU presents an excellent opportunity for collaborative research and academic engagement between the two institutes. In addition, this relationship will expose our research fellows and students to international best practices in policy planning and, importantly, to programmatic implementation," said Professor Henry-Lee. SALISES and IDS have committed to exploring joint research activities through collaborative proposals with a view to facilitating development for team members through faculty exchanges.