The UWI congratulates Anthony N Sabga Caribbean Awards Excellence Laureates for 2020
Posted: December 09, 2019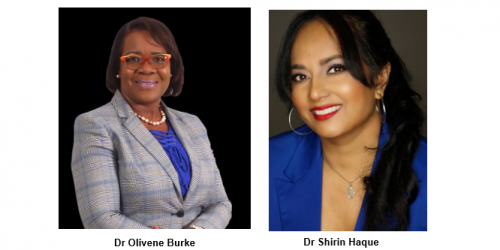 The UWI congratulates Dr Olivene Burke and Dr Shirin Haque who were named the Anthony N Sabga Caribbean Awards Excellence Laureates for 2020. Dr Burke was recognized for excellence in Public & Civic Contributions and; Dr Haque for Excellence in Science &Technology.
Dr Olivene Burke is a social scientist who has been the Executive Director of the University of the West Indies Mona Social Service (MSS) organisation for the last decade. Dr Burke is responsible for executing the organisation's vision of strengthening under-developed communities via a six-pillar social intervention model comprising education and training, health, sports, entrepreneurship, crime and violence reduction and peace. She is a leader in the university's "gown meets town" initiative to make interventions in its communities.
MSS was established in 2008 and under Dr Burke's leadership has transformed the lives and livelihoods of over 40,000 residents in sixteen Jamaican inner-city communities – including August Town in St Andrew and Salt Spring in Montego
Bay. These communities are among the most volatile in Jamaica and the Caribbean. Eight-five young people from six of the communities have received MSS's UWI Township tertiary scholarship, and 33 have graduated thus far.
MSS's interventions are at every level of the communities they serve: school, homes, recreation, and commerce. Through its activities, several basic and primary schools have been outfitted with refrigerators, stoves, proper ventilation and safety provisions, electrical system upgrades, and teacher training provisions. Students were provided with meals and laptop computers while kitchen gardens were initiated to provide means of self-sufficiency.
In addition to formal schooling, MSS also provides skills training to those older than school age in areas as diverse as construction, housekeeping, and database management for those who would not be caught in the formal school system. MSS also assists adults with a Small Business Lab Programme, which was established to provide opportunities for those not eligible for university.
The results have included the creation of service businesses like hairdressers, shoemakers, food service and jewelry shops in communities. MSS also understands the need for recreation and building social capital and a part of its interventions is dedicated to providing community spaces, like sporting facilities, which bring divided communities together. Especially in August Town, these facilities have been re-purposed to serve as educational facilities where lectures and other programmes are carried out.
MSS also encourages housing stock rehabilitation by encouraging UWI students to secure off-campus housing in the communities, thus beautifying communities and providing an income for home-owners. Among MSS's greatest achievements is collective contribution to the reduction of the murder rate in August Town to zero in 2016 (from a high of 11 in 2012). Researchers are now studying the intervention strategies to apply them to other communities in Jamaica and elsewhere.
Burke's accomplishments are achieved through building diverse teams, fund-raising, and targeted interventions. Her initiatives are large scale and require considerable funding and personnel, and have led her to create partnerships with community and academic institutions. MSS has worked in conjunction with local institutions like the Lions' Clubs of Mona and New Kingston, Kiwanis and Rotary Clubs of Kingston and St Andrew, foreign universities including Universities of Costa Rica and Florida State. She is also an active academic who publishes and participates in academic conferences.
Dr Shirin Haque is an astronomer, a senior lecturer, former deputy dean and former head of the Department of Physics, at the University of the West Indies, St Augustine. She is the first and only woman to head the department to date. In 2018 she also became the first woman to be awarded the prestigious CARICOM Science Award.
Dr Haque is an inspiring teacher and researcher in the cutting-edge field of astrobiology, at the UWI, which seeks to understand the complexities of life in the Universe. She has pioneered work on the Pitch Lake at La Brea and the mud volcanoes in Trinidad that is recognized internationally. She was featured on BBC's Science in Action programme in 2008 for her work in Astrobiology at the Pitch Lake. She collaborates with astrobiologists in Finland,Germany and the USA. She started an observational astronomy programme at St Augustine, in collaboration with the University of Turku in Finland, and its success has brought more international attention to UWI with contribution of data to the monitoring of a monstrous binary black hole system and the first comet lander mission. The National Science Foundation in the USA, through the National Radio Astronomy Observatory appointed her as programme director for the development of a Caribbean hub in radio astronomy in 2018.
Her love of astronomy and passion for teaching have led to significant success in popularizing astronomy in Trinidad and Tobago and the wider region through her compelling research, public lectures, newspaper, magazine articles, short courses for the public, documentary videos and the first ever Caribbean Astronomy series on television on IeTV. She produces and is editor of the magazine "The Intellectual – art, science and architecture" distributed regionally and internationally.
Dr Haque is a Fellow of the Royal Astronomical Society, Member of the International Astronomical Union and the American Astronomical Society. She is a founding member of the Caribbean Institute of Astronomy (CARINA). This year she was appointed National Outreach Coordinator for Trinidad with the Office of Astronomy Outreach with the International Astronomical Union (2019). She chairs the national committee coordinating the naming of an exoplanet and its host star that would be visible from the country, which would be named by the people of Trinidad and Tobago in an historic act as the first locally named celestial object.
As an educator, Dr Haque is a dynamic student-centred instructor and an outstanding role model, especially to young women, creating opportunities for them to do research visits at international institutes. She has introduced several new courses including in Astrobiology. She also conducts astronomy and STEM workshops for teachers regionally and provides career guidance to secondary students. She was the co-chair of the International School for Young Astronomers (ISYA) held in Trinidad in 2009, with participants from 17 countries and co-organized the first ever Caribbean regional Astronomy conference in 2017.
Dr. Haque has a multidisciplinary approach to her work, having completed an MPhil degree in Psychology. She has spearheaded fundraising activities in the faculty for needy children in the community and for students in the faculty.
She has won a number of awards for her work including in 2002, the Guardian Life Teaching Award, the international distinguished teacher award from the Association of Atlantic Universities in 2004, the Rudranath Capildeo Award for Applied Science and Technology (Silver) in 2013 and in 2011 the Women in Science and Technology medal, both from NIHERST which has also named her as a science icon. She featured in "60 under 60" for UWI 60th anniversary publication highlighting 60 outstanding academics at the University of the West Indies and in "Eminent women scientists in Latin America and the Caribbean and then was honoured again with an award for outstanding work as a woman scientist for UWI's 70th anniversary.