Faculty of Medical Sciences brings ASPIRE Award for Excellence in Social Accountability to Mona
Posted: December 23, 2020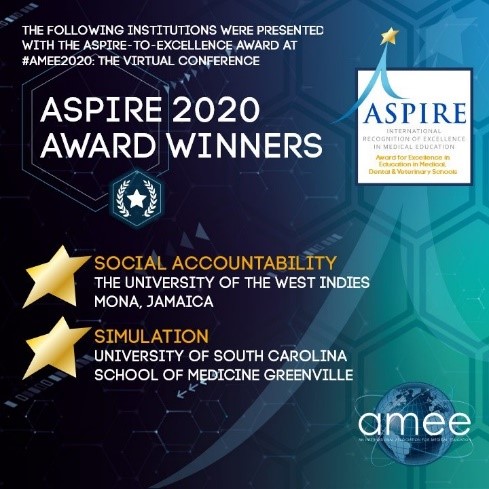 The Faculty of Medical Sciences (FMS) at The University of the West Indies, Mona Campus has made history in becoming the first in Latin America and the Caribbean to receive the ASPIRE Award for Excellence in Social Accountability. The University, through the FMS, is the 17th training institution worldwide to receive this award. The announcement was made in September 2020.
The ASPIRE to Excellence Programme, administered by the Association for Medical Education in Europe (AMEE), has been established to go beyond the traditional accreditation process.
Social Accountability in the context of medical education, speaks to the obligation of the medical school to respond to the priority health needs of the population which it serves.
At the Mona Campus, Dean Tomlin Paul has championed the vision of social accountability by making it a stated core value of the Faculty and aligned it with their mission so as to encourage the support and engagement of faculty and students. Over the years, the Faculty has seen growth in inter-professional social outreach and incentives for socially accountable actions. The Faculty has also seen stronger student engagement and growing advocacy on issues of social justice.
The ASPIRE Award submission was based not only on the current efforts of the Mona leadership to promote the involvement of its health professions' students as change agents but also on an appreciation of the impact of past initiatives. For example, the community contextualization of medical education by the late Professor Sir Kenneth Standard, former Head of the Department of Social and Preventive Medicine at the Mona Campus, is still used today as a training philosophy training.
Dean Paul was keen to point out the contribution of the Mona Campus team in this achievement which highlights the excellent leadership of his students and the support by faculty and administration for this vision. He was also grateful for the long standing support of the Pan American Health Organization.
He noted that the award will help to stimulate ongoing efforts to build on the legacy of stalwarts such as Sir Kenneth Standard and will help to foster a regional movement for social accountability in health professions' education.