UWI Grad Wins Olympic Gold
Posted: August 05, 2021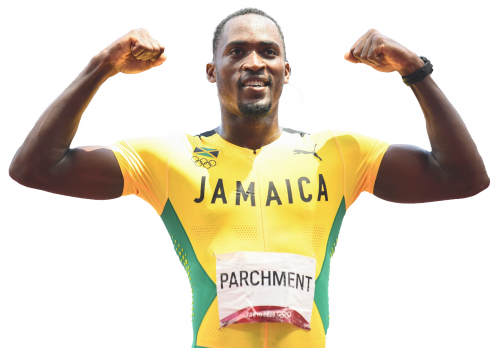 The University of the West Indies (The UWI) congratulates alumnus, Hansle Parchment on winning gold in the men's 110 metre hurdles at the Tokyo 2020 Olympic Games. Parchment clocked 13.05 seconds in the athletics event on August 5 to take the Olympic title. The UWI, Mona Campus alumnus now has two Olympic medals, following his bronze win at the London 2012 Olympics. He is also a silver medalist from the 2015 World Championships in Beijing.
The Jamaican track and field athlete who graduated from The UWI, Mona Campus with a degree in Psychology in 2017, is among a contingent of current students, alumni, coaches and sports medical support staff, representing both their countries and the regional University at the Olympics.
Vice-Chancellor Beckles extends warmest congratulations to Parchment. In a brief statement he added, "This is why we established a Faculty of Sport within our current Strategic Plan, to give more UWI students a shot at gold as their personal goal. The potential to sustain the elite performance of our sport talent is obvious. UWI will continue to play its part."
Professor Dale Webber Pro-Vice-Chancellor and Principal of the Mona Campus stated, "We at The UWI are bursting with joy and pride at Hansle's tremendous achievement of the Gold Medal in the 110m hurdles at the Tokyo Olympics. The UWI has always been a believer in sports as essential to the well-rounded student, and Hansle's journey is a testament to that fact. We note with amazement the consistency in his performances since 2011, clearing hurdles on and off the track in his quest for greatness. We will continue, through our Faculty of Sport with Academies support our student athletes so that they may continue to perform at the highest level. Hansle's story will no doubt be an inspiration to student athletes here at home, throughout the region and across the world."
Commenting on Parchment's performance, Dr Akshai Mansingh, Dean of The UWI Faculty of Sport Faculty said, "Hansle has been a model student athlete for The UWI. He continues to scale heights of achievement on the track. His involvement and influence on the Mona Campus over the last decade has been exemplary and he has motivated staff and students alike. We stand proud of him in this moment of glory."
Photo: The Gleaner Co. (Media) Ltd.