Lucille Mathurin Mair Lecture 2012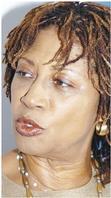 "Rebel Women: Engendering Transformation ", is the theme for the 2012 Lucille Mathurin Mair Public Lecture to be delivered by Mrs. Beverley Anderson-Duncan. This year's distinguished guest speaker is a gender and transformational leadership trainer and activist and author. The 2012 Lecture is being organized jointly by the Mona Campus Unit of the IDGS, Friedrich Ebert Stiftung (Jamaica and the Eastern Caribbean), and Jamaica Money Market Brokers. The event takes place on Thursday, March 29, 2012 at 5:30 pm at Lecture Room 2, Faculty of Law, UWI, Mona.

This Lucille Mathurin Mair Public Lecture Series was inaugurated in 1998 to celebrate and honour the contribution of Dr Lucille Mathurin Mair, a well-known Jamaican historian, author, teacher, activist and diplomat.

Mrs. Anderson-Duncan focuses on the historical significance of the achievements and contributions of Dr Lucille Mathurin Mair to gender equality, empowerment and sustainable development. She traces the distinguished legacy of Dr. Mair, as a Rebel Historian who gave women of all classes, races and ethnicities, visibility and voice to articulate their needs and rights. Anderson-Duncan will argue the strategic need to mainstream gender in all policies and programmes within and outside the UWI.

The symbol of rebel women in this seventh lecture facilitates reflections on the contribution of Mair and the many other rebel women, to shaping the country's political development from a female perspective. Anderson-Duncan, an activist since the 1970s, provides a personal insight into Lucille Maturin Mair's contribution to social transformation. She outlines her vision and challenges her audience to envision a future characterized by development that is equitable, transparent, inclusive, accountable and participatory, and acknowledges the importance of women's voice and agency. She argues that gender must be mainstreamed in national policies and programmes to achieve gender equality in political leadership and social transformation.

Dr Mathurin Mair taught at The University of the West Indies, Mona Campus for several years and has been honoured for her work in the field of international relations and women's rights. She was the first Regional Coordinator of the Institute (formerly Centre) for Gender and Development Studies. For her outstanding service as a diplomat, scholar and women's rights activist, she was accorded the highly deserved honour of being the fifth recipient of the CARICOM Triennial Award in 1996. She also served as the Executive Director of the Bureau of Women's Affairs and as Jamaica's Ambassador to the United Nations. Unfortunately, Dr Mathurin Mair died in January 2009 but the IGDS Mona Unit is committed to continuing this lecture series to celebrate and honour her memory and work.

It is expected that the lecture, and the publication of it will encourage other rebel women and men who support gender equality, to mainstream gender, and transform and enhance the development of Caribbean societies.

The lecture therefore, also sought to link Jamaica's 50th Anniversary celebrations and UWI's 50th anniversary as an independent degree granting institution, the first of its kind in the region, capable of granting its own degrees. Having the Lucille Mathurin Mair Public lecture in March, the month in which International Women's Day is celebrated is also significant at several levels.