The University Singers Presents "Jamaica 50: The Golden Jubilee"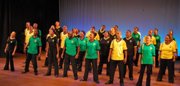 The University Singers, in its 2012 Concert Season, joins with Jamaica in the celebration of the fiftieth year as an independent nation. Dubbed: JAMAICA 50: THE GOLDEN JUBILEE, the group has taken this concept and translated it into a Jamaican masterpiece. This musical feast will take its audiences through music dating back to the pre and post independence era, a journey involving a wide range of musical genres spanning religious, classical, art, folk and popular songs written and composed by Jamaicans. The recurring theme that will permeate the performances celebrates Jamaica as a nation state.

The highlight of this year's concert season will be the performance of an original Jamaican opera which focuses on the Morant Bay Rebellion of 1865. Written by choir master and conductor extraordinaire, Franklin Halliburton, the opera will transport the audience to vivid scenes of slave resistance, depicting the magnitude of the struggle that the enslaved blacks had to endure in order for us to gain independence almost a century later. Under the direction of acclaimed drama director and producer Brian Heap, the choir members have been transformed into militant pre-abolition characters. He is ably assisted by the choir's choreographer, Kevin Moore, of the National Dance Theatre Company (NDTC).


The concert season will be at The Philip Sherlock Centre for Creative Arts (PSCCA), and will run for five weeks from May 24, 2012 to June 24, 2012. Performances are on Thursday to Saturday of each week at 8 p.m. and on Sundays there will be two shows, at 4 p.m. and 8 p.m. For ticket information, interested persons may telephone the University Singers Office at 702- 3518 or 842-5324 or email: info@uwisingers@gmail.com.