UWI Lecturer Signs Book- October Afternoon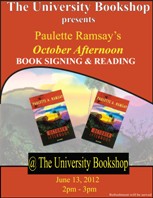 UWI, Mona lecturer, Dr. Paulette Ramsay will read excerpts from her book "October Afternoon" during the Book Signing and Reading on Wednesday, June 13, 2012 at 2 pm at the UWI Bookshop. The book is a collection of poems which deal with issue of subjectivity, identity, feminism and racial and cultural pride. It is also about the word and the importance of writing in self definition. Books will also be on sale on this occasion.

The university community and the public are invited to the event.