CHDS and UWI Seminar Explores Responses to Transnational Criminal Organizations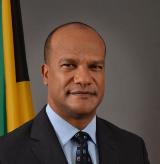 The Center for Hemispheric Defense Studies (CHDS) in partnership with the National Security and Strategic Studies Programe at The UWI, Mona recently presented a seminar entitled "Governance, Governability, and Security in the Americas: Responses to Transnational Criminal Organizations". The seminar targeted senior and executive level security sector officers including Representatives of the Jamaica Constabulary Force, Jamaica Defence Force, and the Ministry of National Security.

The occasion provided a shared understanding of the region's security and law enforcement environment and the likely security threats and risks from organized crime. During the ceremony, Jamaica's Minister of National Security Peter Bunting noted the significance of reducing violent crime to promote sustained development as well as changing cultural norms in order to promote citizen security and growth. U.S. Chargé de Affairs Dr. Raymond Brown discussed the threat of transnational organized crime to Caribbean political systems and democratic governance in the region.