Edward Baugh Lecture 2012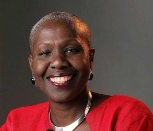 "Islands Beyond Envy: Finding Our Tongue in the Creole-Anglophone Caribbean" is the title of this year's Edward Baugh Lecture. Professor Carolyn Cooper, Professor of Literary and Cultural Studies at UWI, Mona will deliver the Lecture. The event is slated for Thursday, November 29, 2012 at 6 pm at the Philip Sherlock Centre for the Creative Arts (PSCCA), The UWI, Mona.

The university community and the public are invited.