UWI, Mona Mentorship Programme 2012/13 Launch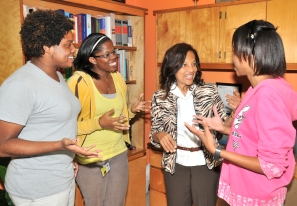 The UWI, Mona Campus launched the Mentorship Programme 2012/13 on Thursday, November 1, 2012 for the eighty (80) mentors and mentees who will participate in this year's programme. The mentors are drawn from 43 corporate organisations in addition to the UWI, Mona Campus and the UWI Regional Headquarters. The occasion saw Ms. Rose Cameron, Director of Student Services and Development highlighting the value of the programme to all involved. She described it as a 'win/win' partnership." She continued that, "the students who participate have a year-long opportunity to draw on the experience, talents and expertise of their mentors and the mentors gain satisfaction from nurturing and guiding the mentees." Ms. Shaneek Findlay who spoke on behalf of the mentees, shared her expectations of a mentor.

The Mentorship Programme which was established in 1992 is designed to enhance the total development of students and expose them to intangible factors for personal and professional growth. Additionally it seeks to expose students to successful role models who can provide realistic career guidance and an informed perspective on the world of work.

This year's launch had the addition of incentives to students who arrived early and made a commitment to complete the programme. There was also the raffle of a major prize of an IPAD which was won by Ms. Jasset Thomas, a mentee from the Faculty of Medical Sciences.

The reception which ended the evening's activities, afforded an opportunity for mentors and mentees to become better acquainted and for the university to extend its appreciation to corporate executives and alumni for helping to prepare students in their transition from tertiary education to the world of work. The university also extends an invitation to suitable individuals to participate in the UWI Mentorship Programme.