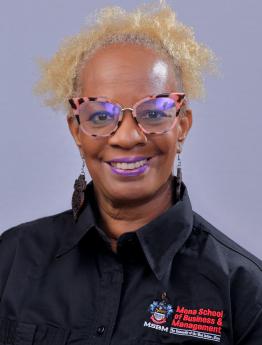 General Area of Academic Specialization
Organizational Behaviour, Quality Service, Tourism
Academic Unit
Behavioural Sciences & General Management
Contact
Mona School of Business and Management (South)
(876) 977-3775
As a trained trainer and facilitator, I bring those skills to my teaching. I like to ask my students questions so that they can reflect on the world around them rather than simply learn a list of facts. I believe that the average group of adult learners has tremendous wisdom, knowledge and insights within them and it is my job to tease them out so that we can all benefit. 
My research reflects questions that I ask myself, and they are always practical questions about how we can resolve issues that confront managers every day. Questions that I have asked in the past are for example "Why don't they smile?" when I see sulky service personnel or "What does professional mean?" when managers tell me that it is an important hiring characteristic. The answers are seldom simple but they are usually interesting.
Some Research Highlights:
Journal Articles 
Milwood, Pauline A., and Crick, A.  2021.  "Culinary tourism and post-pandemic travel: Ecosystem responses to an external shock." Journal of Tourism, Heritage & Services Marketing (JTHSM) 7 (1): 23-32.
Crick, A.P. Spencer, A. 2011.  "Hospitality Quality- New Directions and New Challenges". International Journal of Contemporary Hospitality Management, 23 (4): 463-478.  Cited by 173 (GS).
Crick, A.P.  2008. "No Plantation Work Here: Contemporary HR practices in Caribbean Hotels".  International Journal of Contemporary Hospitality Management, 20 (1): 79-89.  Cited by 11 (GS). 
Book Chapters 
Crick, A. P. 2017.  "Island Hospitality, Services and Business".  In Tourism Management in Warm Weather Destinations, edited by M. McLeod and R. Croes, 63-73. CAB International.
Crick, A.P.  2014.  "Food and Beverage". In Contemporary Caribbean Tourism: Concepts and Cases, edited by S. Roberts, M. Best, A. Cameron, 162-180.  Ian Randle Publishers. 
Crick, A.P. 2011. "New Third Places: Opportunities and Challenges" In Tourism Sensemaking: Strategies to Give Meaning to Experience, Advances in Culture, Tourism and Hospitality, edited by A. Woodside, Volume 5. 63-77. Emerald Publishing. Cited by 1 2 (GS).
Cowell, N. Crick, A.P. & Martin, R. 2007. In "- Ethics at the workplace: A survey of ethical propensities of UWI students and HRM Professionals". In Ethical Perspectives for Caribbean Business, edited by N.M. Cowell, A. Campbell, G. Chen, S. Moore. 229- 60. Arawak Publications.
Crick, A.P. 2006. "EP/Small Hotels: Prospects for the future". In Tourism: The driver of change in the Jamaican economy? Edited by K. Hall & R. Holding. 71- 91. Ian Randle Publishers.
Undergraduate Courses
MGMT2008: Organizational Behaviour 
MGMT3021: Organizational Theory and Design
MGMT3069: Quality Service Management 
MGMT3017: Human Resource Management
MGMT3022: Organizational Development
Graduate Courses
MGMT6017: Organization Theory and Design 
MGMT6130: Food and Beverage Management 
MGMT6123: Human Resource Management and Industrial Relations 
MGMT6122: Quality Service and Operations Management
MGMT6131: Advanced Seminar in Organizational Design and Change
2011, ICHRIE Best Paper Award.
2004, University Council of Jamaica (UCJ) Special Recognition Award in recognition of contribution to the development of standards in Hospitality & Tourism.